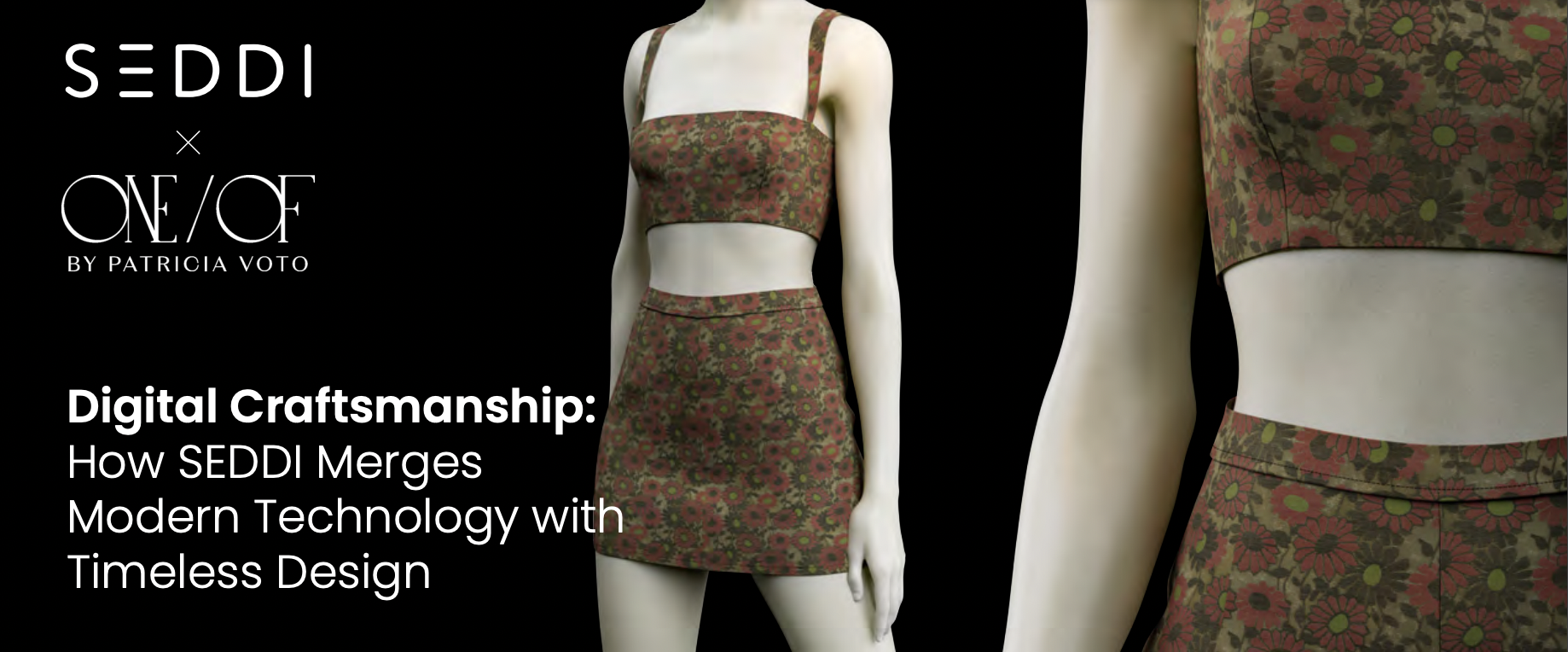 Made from surfeit fabrics of heritage brands and European mills, designer Patricia Voto's ONE/OF is a bespoke, sustainable, made-to-order brand. The brand's mission is to merge traditional fashion craftsmanship with modern sustainable practices. Patricia is always looking for innovative ways to further this mission, as well as to create efficiencies in the design and production process. One of the biggest challenges the brand faces is creating eco-friendly workflows. Activities like international fabric sourcing, shipping samples overseas, and working with clientele around the world impact emissions and waste. ONE/OF partnered with SEDDI's innovative textile digitalization and 3D garment engineering technologies to not only streamline these processes, but to do so sustainably—all while maintaining quality and integrity in the design process.
Digital Fabrics for a Sustainable Supply Chain
SEDDI's software solutions reduce environmental impact and create collaboration and efficiencies across ONE/OF's entire value chain. It all starts with fabric, and with the textile digitalization solution SEDDI Textura, fabric sampling can now be done in the cloud, in 3D.
"Utilizing SEDDI Textura, Patricia no longer has to travel to see fabrics. She can have them scanned in any of the mills and factories [she works with] and see how those fabrics will drape and move, and how light reflects off of them, all in the cloud."
– Julie DeLoca, Chief Marketing Officer at SEDDI
With just a desktop scanner and a browser, Patricia and her team can also digitalize any fabrics themselves. It's as simple as uploading images of fabric into the software and adding a few simple data points to inform SEDDI's ever-learning AI engine trained with thousands of fabrics captured by SEDDI scientists. Within minutes, fabrics are digitalized and ready to be worked with in 3D. This enables brands to quickly, easily, and inexpensively scale a digital fabric library, and collaborate with vendors and clients in real-time—without waste.
"We try to minimize the risk and waste with fabrics by not cutting anything until we know that it's the right fabric for the right silhouette. SEDDI software is very helpful because it allows us to show the client what the final garment would look like in our fabric without having to cut it." – Patricia Voto, Designer at ONE/OF
Game Changing 3D Garment Engineering
SEDDI Author streamlines the design process for ONE/OF in multiple ways. The cloud-native 3D garment engineering software makes it possible for Patricia to design and sew digitally. This allows her to work quickly, reduces physical sampling, and enables real-time design iterations, which is a game changer for remote made-to-order clients.
"SEDDI's combination of AI-generated fabrics that accurately drape on responsive customized avatars and cloud-native garment engineering software, allow Patricia to trust fabric and fit decisions without physical samples. Patricia can work with clients anywhere in the world and know her designs will fit perfectly—without ever being in the same room with them."
– Julie DeLoca, Chief Marketing Officer at SEDDI

What makes SEDDI Author unique is the software's level of detail, as it simulates the true construction of clothing down to the seam and stitch level. SEDDI's TrueSeams™ technology models the realistic geometry of seams, seam allowance, and stitches for accurate design and decision-making. And since avatars can be customized to any proportions, Patricia can cut and sew with confidence, sure that garments will fit her customers properly.
The Dawn of Digital Craftsmanship
With SEDDI software in her toolkit, Patricia is able to further not only her sustainability mission, but her business goals, creating efficiencies at every stage of a garment's creation and unlocking more time for creativity—ensuring design and craftsmanship are never compromised by going digital.
"What's really helpful is the level of refinement within the program. So we can really understand the quality and workmanship that needs to go into each product. So to be able to have craftsmanship, turn into digital craftsmanship, has been really beneficial for our brand, our growth, and the attention to detail we need for each piece."
– Patricia Voto, Designer at ONE/OF
Download the full case study here: